Roberto Busa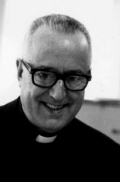 Born 28. November 1913 in Vicenza, died 9. August 2011 in Gallarate.
Internationally recognized as a pioneer of linguistic informatics, philosopher, Jesuit priest.
Born in Vicenza, Italy, on the 28th of November 1913. Entered the Jesuit order in 1933, ordained in 1940, died in 2011.
PhD in philosophy at the Pont. Gregorian University, Roma in 1946, with »La terminologia tomistica dell'interiorità«,(published Milano 1949) research on the values of the preposition »in« in the Latin texts of Thonas Aquinas, under supervision of Prof. René Arnou sj.
He taught, for decades, at the Philosophy Dept. of the Aloisianum in Gallarate (near Milano), at the Pont. Gregorian University in Rome and at the Catholic Univerisity in Milano.
He founded two schools of computerized hermeneutics in Milano and in Roma.
In 1949 he started at IBM in New York City and continued for 30 years in Italy and in USA, to process the »Index Thomisticus«, computerized census of the Aquinatis Opera Omnia 9 million words, plus almost 2 other millions of Latin connected medieval writings.
This celebrated gigantic work, photocomposed by IBM computer, has been published by frommann-holzboog 1974–1980 in 56 volumes of encyclopedia size, with more than 60,000 pages.
In 1992 padre Busa published its Cd-Rom in Milano, in 2nd edition with its Thesaurus in 1996.
In addition to testing the methods, he had processed, always in équipe, another 10 million words from texts, the most known of which were the Dead Sea Scrolls in Hebrew, and the Koran in Arabic, in 22 languages and 9 different alphabets.
His list of publications at the end of 2001 includes 369 titles, available at the Cael-Project LTB, c/o Pont. Univ. Gregoriana, piazza della Pilotta 4, 00187 Roma.
In fact, in most recent years he had been working on starting an international project of computerized hermeneutics, the LTB, a Thomistic bi-cultural lexicon, translating, conceptually not verbatim, the immense Latin vocabulary of Aquinas (a true encyclopedia summarizing 40 centuries of Mediterranean culture) into the contemporary vocabulary of various languages.
Werke von oder mit Roberto Busa:
---
---
Single volumes
Single volumes:
---