Reformer als Ketzer
Heterodoxe Bewegungen von Vorreformatoren.
With contributions by
Gabriel Audisio, Mihály Balázs, Peter Dinzelbacher, Jörg Feuchter, Kurt Flasch, Amalie Fössel, Günter Frank, Anne Hudson, Johann Kreuzer, Sebastian Lalla, Albert de Lange, Theodor Mahlmann, Paul Metzger, Friedrich Niewöhner, Wilhelm Schmidt-Biggemann, Peter Segl and Kurt-Victor Selge
.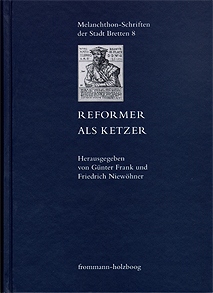 The concept of a unity and a uniformity of the Christian religion (orbis christianus) in patristics and in the Middle Ages has proven to be an illusion. In fact since Christianity originated there has been a large number of heterodox movements, some of which could never be absorbed by the Christian church. Movements such as early Christian Gnosticism, the Paulicians, the Bogomils, the Antitrinitarians, the Cathars, the Albigensians and the Waldensians marked a religio-historical zone between Armenia and the Iberian Peninsula whose vitality endured for centuries. Based on examples, this volume provides an insight into the history of some of these movements summarized under the central concept of a so-called pre-Reformation, a term used up to the 19th century.
Contents:
Paul Metzger: Geleitwort
Günter Frank / Friedrich Niewöhner: Einleitung: Die sogenannten vorreformatorischen Bewegungen und die Reformation
Theodor Mahlmann: »Vorreformatoren«, »vorreformatorisch«, »Vorreformation«. Beobachtungen zur Geschichte eines Sprachgebrauchs
Günter Frank: Wirklichkeit und Topik des sogenannten Vorreformatorischen. Der Paulikianismus
Kurt Flasch: Armut als philosophische und christliche Idee
Peter Dinzelbacher: Die Achsenzeit des Hohen Mittelalters und die Ketzergeschichte
Kurt-Victor Selge: Joachim von Fiore
Johann Kreuzer: Denken, das in seinen Grund geht: radikale Diesseitigkeit bei Tauler
Amalie Fössel: Der Ortlieber
Anne Hudson: English Wycliffites and the events of their times
Peter Segl: Die Auswirkungen der hussistischen Bewegungen auf Europa
Gabriel Audisio: Une originalité vaudoise: les barbes, médecin de l'âme et du corps
[Mihály Balázs]{Balázs, M.]: Mittelalterliche Häresie in der Geschichtsphilosophie
Sebastian Lalla: Antitrinitarismus im Mittelalter
Wilhelm Schmidt-Biggemann: Flacius Illyricus' »Catalogus testium veritatis« als kontrovers-theologische Polemik
Albert de Lange: Die Ursprungsgeschichten der Waldenser in den Cottischen Alpen vor und nach der Reformation
Jörg Feuchter: Albigenser und Hugenotten